Specifications
Get A Free Quote!
Features & Benefits
• Zero Formalin Exposure creates a healthier work environment
• Fully automated dispensing in enclosed chamber reduces formalin spills
• Dedicated buckets with one-way safety valve
• Standardized dispensing results in accurate fixative ratio for histology specimens
• Time to fixation is documented for optimal IHC results
• 2D barcodes enable reliable sample traceability
Description
Eliminate exposure to carcinogenic formalin, standardize fixative dispensing, and document the process with the UltraSAFE Automated Formalin Dispensing System. Its innovative technology enables OR personnel to handle histology specimens without exposing themselves to dangerous formalin fumes. With a user-friendly touch screen and built-in barcode reader, standardization and documentation are effortless. Create a safer workplace and standardized results with UltraSAFE.
Visit Milestonemedsrl.com/Ultrasafe for more information including a product demonstration video.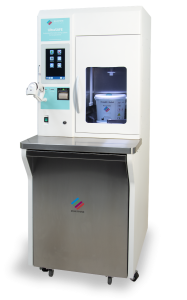 Get A Free Quote!