HistoDream EW is a robust and reliable unit built to last: it is the ideal companion for tissue embedding and it's fully equipped to answer any Histotech request.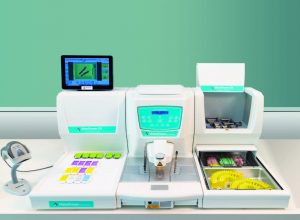 Features:
COMPACT DESIGN
Made to fit any lab table/corner.
STAND ALONE COLD MODULE
The cold module works independently from the main unit. It boasts its own parameters settings, up to -12 celsius.
PROGRAMMABLE HEATING
HistoDream EW is ready at any time, even for urgent or unforeseen samples.
ANY CASSETTE STORAGE
It holds up to 300 cassette, in squared & round racks. Mega and SuperMega find their space, too.
FULLY EQUIPPED
Paraffin trimmers, Led illumination, power slot for heated tweezer, 5 liters of molten paraffin, 400 molds capacity.
CASE TRACEABILITY
Optional extra touch screen tablet available with bar code reader for case traceability.
INDUSTRIAL GRADE APPLIANCE
HistoDream EW is resistant to laboratories' harsh conditions for long lasting durability, with no need for maintenance.