The Mopec Maestro was created and designed to grant you the ability to conduct your own workspace, making it the safest and most personalized grossing bench ever offered. Mopec understands that each pathology professional has its own workspace preferences and each lab holds their own safety, ergonomic and workflow requirements.
The Mopec Maestro features exquisite safety benefits, easy-to-use touchscreen and a prime work surface that can be customized to suit each user. You can harmonize your workspace with over a dozen movable options, developing your work area to fit your exact needs. With the Maestro's distinctive Ensemble Pegboard, more storage space is readily available. Should laboratory space or staffing needs change, Maestro benches can be altered within your facility, making it a truly flexible design.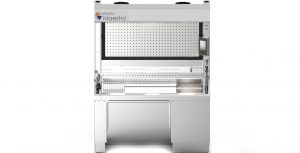 Standard Features Include:
CUTTING & RINSING SURFACE
Each station features two removable panels with one perforated plate and one specimen cutting board with removable legs. The panels are able to slide across set rails for workspace flexibility and easy cleaning. The sink can also be adjusted for left or right handed users.
HEIGHT ADJUSTABILITY
Maestro workstations are ADA compliant, and adjust to accommodate professionals of differing heights.
FRONT AIR SYSTEM
This patented, on-demand technology pushes air from the front of the cutting surface through the back of the area, creating a laminar flow pattern. This continuous ventilation protects each operator from dangerous formalin exposure.
SAFETY NOTIFICATIONS
A series of audible beeps and on-screen warnings let users know of possible harmful conditions involving air flow, optional formalin collection and other hazards or risks.