Specifications
Get A Free Quote!
Features & Benefits
-The Micro Bead Sterilizer does not use gas, flame or chemicals and is safe for use in hoods.
-Temperatures can be viewed on the large LED control panel and adjusted with the control knob.
-With adjustable temperature, the application range of the sterilizer can also be expanded into incubations and the decontamination of plastic objects/tools.
-2 year warranty This product is designed for RESEARCH USE ONLY.
-Not intended for clinical use.
Description
Benchmark's Micro Bead Sterilizer uses glass beads heated to 300°C to eliminate bacteria, spores and other microorganisms from small research tools (forceps, scissors, etc.). The outside of the sterilizer is cool to the touch, even when used all day. A supplied safety cover can be placed over the opening to conserve energy and reduce the heating/ramping rate.
Micro Bead Sterilizer, with glass beads, 115V Item# B1210
Micro Bead Sterilizer, TALL, with glass beads Item# B1202
Refill Glass Beads, 3mm, 1000g Item# B1201-Bead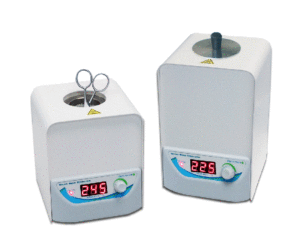 Get A Free Quote!