Specifications
Get A Free Quote!
Features & Benefits
-Both models (5 roller and 10 roller) operate at 38rpm.
-The roller mechanism lifts the right side of each roller 0.5 in (13mm) during each revolution.
-This tilt provides uniform mixing that can not be matched by stationary rollers. Speed: Fixed, 38 rpm (+/- 10%) Tilt Angle: +/- 5° Motion: Simultaneous roll & tilt Operating Temp. Range +4 to +40°C
Description
TubeRollers are designed for a variety of containers, including bottles, test tubes, centrifuge tubes and roller bottles.
2 year warranty.
TubeRoller with 5 rollers, Item# R3005
TubeRoller with 10 rollers, Item# R3010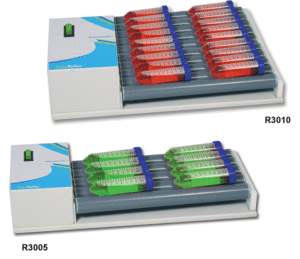 Get A Free Quote!