Specifications
Get A Free Quote!
Features & Benefits
-The EXC-500 controls are placed for operator comfort and ease of use, reducing repetitive movements and eye fatigue. It also has smooth focus controls and large, sturdy stand.
- EXC-500-TE Ergonomic Binocular Research Microscope with NIS includes Ergo Binocular viewing head, inclined 30°, IPD 47 - 78mm, rotatable 360° adjustable 0° to 35°, IPD 47 - 78mm WF 10x/22mm focusing eyepieces with eyeguards.
-Reversed sextuple nosepiece NIS Infinity Corrected PLAN 4x, 10x, 40xR & 100xR oil objectives Gorilla™ glass 2 specimen mechanical stage, tension adjustable controls
-Achromat swing out condenser, N.A. 0.90 (2x - 100x) Coaxial coarse and fine focusing controls.
- Koehler illumination - 3 watt variable S-LED illuminator (equivalent to 100wat halogen)
Description
ACCU-SCOPE's EXC-500 Series is designed especially for pathologists. Dust cover, power cord, instruction manual UL Approved 5 year warranty.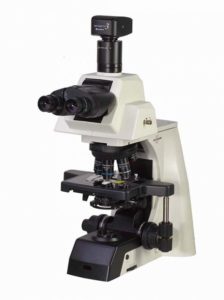 Get A Free Quote!