Specifications
Get A Free Quote!
Features & Benefits
-These hotplates, stirrers and hotplate-stirrers feature a square 7.1 inch chemical resistant white ceramic work surface.
-Turn knobs allow quick, precise adjustment and maintenance of speed and temperature.
-Front panel safety indicator LED lights indicate when the heating and/or stirring functions have been activated.
Description
Range: 80 to 380°C
Speed Range: 60 to 1500 rpm
Platform Dimensions: 7.1 x 7.1 in./ 180 x 180 mm
Operating Temp. Range +4 to +65°C
Electrical: 120, 60Hz
Warranty: 2 Years
Hotplate Magnetic Stirrer, 7.5″x7.5″, 115V Item# H4000-HS
Stirrers to 1500rpm 49″ Sq. In. Ceramic, Item# H4000-S
Rod for Hotplate/Stirrer Item# H4000-ROD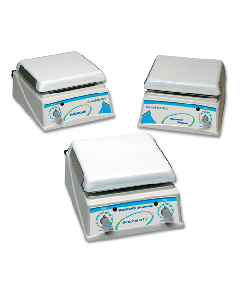 Get A Free Quote!