Specifications
Get A Free Quote!
Features & Benefits
- Advanced microprocessor controls provide quick adjustment of speed and temperature.
-The LCD displays speed and temperature, while a safety LED indicates when the top plate is above 50°C.
-An optional probe is available for applications that require precise temperature control. When connected, the probe provides direct feedback to the microprocessor, which continuously adjusts and maintains the selected temperature in the sample within +/- 0.5°C.
- An optional support rod (H3760-ROD) is available for mounting thermometers, temperature probes, etc.
Description
Hotplate-stirrers have a 6.5 in ceramic work surface suitable for glass beakers, flasks, bottles, and other vessels. Great for use on crowded benchtops and inside bio-hoods.
Temp. Range: Ambient +5 to 380°C
Speed Range: 200 to 1500 rpm
Platform Dimensions: 6.5 x 6.5 in./ 16.6 x 16.5 cm
Operating Temp. Range: +4 to +65°C
Electrical: 120 or 230V, 50-60Hz 500W
Warranty: 2 Years
Digital Hotplate Magnetic Stirrer Item# H3760-HS
Magnetic Stirrer Item# H3760-S
Digital Hotplate Item# H3760-H
Optional Temperature Probe (H3760 Series) Item# H3760-TP
Optional Rod for Hotplate/Stirrer (H3760 Series) Item# H3760-ROD
Clamp set for H3760 series, includes rods and clamps Item# H3760-CS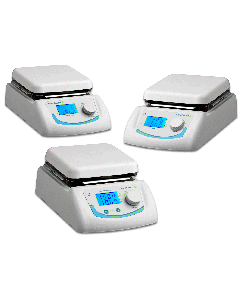 Get A Free Quote!