Specifications
Get A Free Quote!
Features & Benefits
-The myTemp 65HC is able to perform heating and cooling applications. Features of the myTemp65HC include:
* A large, digital display showing the chamber temperature and remaining incubation time.
* An internal light is included to view into the chamber
* A built in, internal outlet to provide power to small instruments, such as shakers, rockers, etc.
-Forced air technology and stainless steel inner construction ensured uniform heat transfer throughout the internal chamber. The compressor quickly cools the chamber to sub-ambient temperatures when needed.
-The myTemp 65HC has an exterior height of 39 inches (100cm).
-It is designed to be floor-standing, yet compact enough for bench-use. (Not recommended for use on benchtops taller than 32"/81cm).
-Comes with two, adjustable height shelves.
Description
The myTemp 65HC Incubator provides accurate and uniform temperature control from 0 to 60°C.
Item# H2265-HC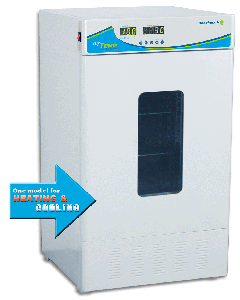 Get A Free Quote!