Specifications
Get A Free Quote!
Features & Benefits
-Set the desired temperature on the MyTemp Mini Digital Incubators using the digital temperature control and the incubator heats up (or cools down, -HC model only) immediately.
-Chamber temperature is displayed in real time on the LED control panel. Even with a small footprint of 14.5 x 13", the MyTemp incubators have large internal chambers.
-The MyTemp Mini Digital Incubator can store flasks and bottles up to 2 liters.
-Each incubator comes with two adjustable shelves and an internal outlet for powering small shakers, rockers and other instruments.
- A mini nutating rocker (supplied with both flat and dimpled mats) is available as an add-on, for agitation of samples during incubation.
Description
Warranty: 2 Years
Temp. Range (H): Ambient +5°C to 60°C
Temp. Range (HC): Ambient -15°C to 60°C
Temp. Accuracy: 0.5°C (at 37°C)
Temp. Uniformity: +/- 1.5°C (at 37°C)
Temp. Increment: 1°C
Operating Temp.
Range +4 to +65°C
Platform Dimensions: 9.5 x 11.5 in./ 23.5 x 29 cm
Exterior Dimensions: 13.2 x 14.5 x 18.7 in
Interior Dimensions: 10.3 x 9.3 x 12.8 in.
Capacity: 20L, (0.75 cu. ft.)
MyTemp™ Mini Digital Incubator, with heating only Item# H2200-H
MyTemp™ Mini Digital Incubator, with heating and cooling Item# H2200-HC
Mini Nutating Rocker with flat cord, 8 x 6 in. platform Item# H3D1020
Extra Shelf 10.5 x 8″ Item# H2200-SH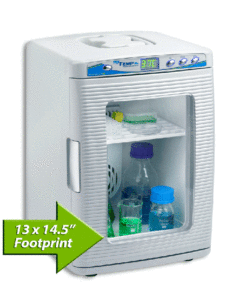 Get A Free Quote!