Specifications
Get A Free Quote!
Features & Benefits
-The BenchMixer provides vortexing of samples up to 50ml tubes.
-The BenchMixer has a unique counter-balance system that creates maximum vortexing action, but is quiet and has less vibrations than other models.
-The BenchMixer as has "no-walk" suction feet, cold room/incubator compatibility and spill-proof electronic controls.
Description
Speed: 200 to 3200 rpm Operating modes: Touch or continuous Orbit: 3mm Operating Temp. Range: +4 to +45°C.
2 year warranty
BenchMixer™ Vortexer Item# BV1000
Vortexer Flat head Item# BV1000-Flat
COMBO™ head Item# BV1000-COMBO
Horizontal head, for 12 x 1.5ml Item# BV1000-H15
Horizontal head, for 4 x 15ml Item# BV1000-H150
Horizontal head, for 2 x 50ml Item# BV1000-H500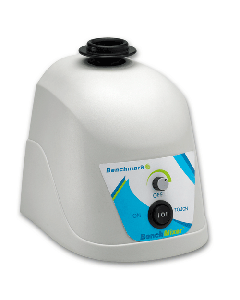 Get A Free Quote!