Specifications
Get A Free Quote!
Features & Benefits
- Performs at speeds up to 2500rpm with rattle-free operation and minimal vibration.
-Program options include pulsing function, time-specific interval mixing, and increasing agitation.
-The platform is 7x12 inches to fit a variety of standard, pre-drilled tube racks.
-To use the Benchmixer XL load the sample rack and tighten the locking knobs, program speed and run time on the digital control panel and push start.
-The BenchMixer XL can perform unattended mixing for up to 100 hours.
-Speed Range: 500 to 2500rpm
-Capacity: 6 x 250ml Orbit: 3.6mm Timer: 1min. to 99 hr 59min.
Description
The BenchMixer™ XL is a heavy duty vortex mixer allows for hands-free mixing of tubes, flasks, vials or cylinders.
2 yr warranty.
Foam Sheet, no holes (2 each) Item# BV1010-00
Tube Rack, 9 x 50ml horizontal (QuEChERS) Item# BV1010-50H
Tube Rack, 15 x 25mm Item# BV1010-25
Tube Rack, 50 x 13mm Item# BV1010-13
Tube Rack, 96 x 0.5ml (8mm) Item# BV1010-05
Rack for up to 3 microplates Item# BV1010-MP
Tube Rack, 50 x 15ml (16.5mm) Item# BV1010-150
Tube Rack, 50 x 1.5/2.0ml (10mm) Item# BV1010-1520
BenchMixer™ XL Multi-Tube Vortexer, includes 50x12mm tube rack Item# BV1010*
Rack for 96 x 0.2ml tubes or strips (3pk) Item# BV1010-MP02
Tube Rack, 15 x 50ml (29mm) Item# BV1010-500
Tube Rack, 50 x 12mm Item# BV1010-12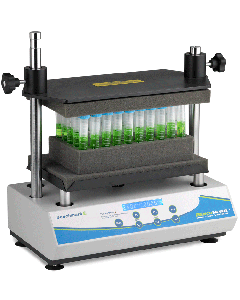 Get A Free Quote!