Specifications
Get A Free Quote!
Features & Benefits
-Users can adjust the parameters to match the vessel size and the volume of liquid being mixed, by gripping the platform with 2 hands and moving it to the desired position.
-Proprietary InstaTilt™ technology means no tools, no disassembly.
-This model includes both flat and dimpled (autoclavable) mats for mixing a variety of tubes and other vessels.
-Stacking platforms can be purchased as accessories, doubling the usable surface area.
-The BenchRocker 3D features a maintenance-free, brushless motor, capable of loads up to 4.4 lbs and is safe for use in cold rooms and incubators.
Description
The BenchRocker 3D provides precise speeds and tilt angles needed for a broad range of molecular and biological mixing applications. Comes with a 2 year warranty.
BenchRocker™ 3D Nutating Shaker, variable speed, 12″x12″ platform with 2 mats, Item# B3D2300
Stacking platform, large 12″x12″ with flat mat (3.0″ separation) Item# BR1000-STACK
Stacking platform, large 12″x12″ with dimpled mat (3.0″ separation) Item# BR1000-Stack-D
LaBungee™ 4 cord bungee cord pack 7″ to 18″ working size Item# B0718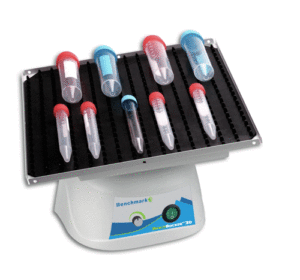 Get A Free Quote!