Specifications
Get A Free Quote!
Features & Benefits
-The tilt angle adjusts from 0 to 10° and mixing speed adjusts from 5 to 105 rpm by using the LCD control panel (no tools or disassembly required).
-The control of both parameters (tilt and speed) provides anything from gentle, slow moving waves to a rapid, more vigorous motion.
-Operators can also program the time of mixing from 1 minute up to 99 hours.
-The 13.5" x 13" platform has a non-slip, rubber mat.
-An optional stacking platform can be purchased separately.
Description
The BenchWaver™ combines the rocking motion of platform rockers with the circular motion orbital shakers. This combination generates the optimum 3-dimensional "undulating" motion preferred for molecular biology applications.  Comes with a 2 year warranty.
Optional Stacking Platform with Flat Mat (4.5" clearance) B3D5000-STK
Optional dimpled mat for use with a variety of tubes B3D5000-DIMP
BenchWaver™ 3D Rocker with flat mat, 13.5×13″ platform, Item# B3D5000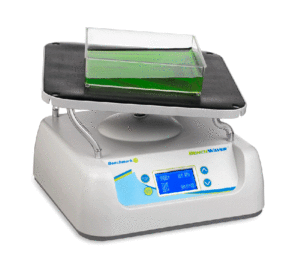 Get A Free Quote!