Specifications
Get A Free Quote!
Features & Benefits
-Each myBath model features seamless, stainless steel chambers for easy cleaning and long life. The chambers resist rust and have no corners to collect dirt or contamination.
-The larger units, 8L and 12L, have drains The 4L, 8L, and 12L models have transparent lids that can be seen through, removed or flipped back out of the way. The lid is designed to divert condensation away from the samples, pushing it to the front and back of the bath.
-The 4, 8 and 12L models include digital controls. Temperature adjustments can be made in 0.1ºC* increments, and are visible on a large, 3-digit display*.
-The proprietary Quik-CAL™ feature allows for simple, in-lab calibration.* The insulation maintains temperature stability and uniformity within the bath, while keeping the housing cool to the touch.
-Racks are available to accommodate 1.5/2.0ml, 15ml and 50 ml tubes within the 4L, 8L and 12L baths. The myBath 4L is supplied with all three racks. *myBath 2L (Item: B2000-2), has a 2-digit display and can be controlled in increments of 1.0C
Description
The myBath Series includes 4 sizes of digital temperature baths in compact sizes to fit in any lab; available in 2L, 4L, 8L, and 12L units.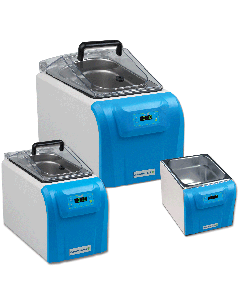 Get A Free Quote!